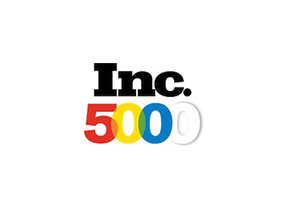 November 29, 2022
AblePay Health Ranks No. 381 Among America's Fastest-Growing Private Companies
NEW YORK, August 16, 2022 – Today, Inc. revealed that AblePay Health is No. 381 on its annual Inc. 5000 list, the most prestigious ranking of the fastest-growing private companies in America. The list represents a one-of-a-kind look at the most successful companies within the economy's most dynamic segment—its independent businesses. The companies on the 2022 Inc. 5000 have not only been successful but have also demonstrated resilience amid labor shortages and the ongoing impact of Covid-19.
"We are extremely proud of our overall ranking," said John Fistner, AblePay Founder and CEO. "To rank 381st on our first submission is a huge achievement. However, being ranked #22 in all health services nationwide was equally humbling. This recognition truly reflects how we are changing the financial landscape for healthcare consumers and healthcare providers, while dramatically improving the patient experience."
"The accomplishment of building one of the fastest-growing companies in the U.S., in light of recent economic roadblocks, cannot be overstated," says Scott Omelianuk, editor-in-chief of Inc. "Inc. is thrilled to honor the companies that have established themselves through innovation, hard work, and rising to the challenges of today."
About AblePay Health
Founded in Bethlehem, Pennsylvania, in 2016, AblePay Health (ablepayhealth.com) offers a simple solution to increasing healthcare costs in the United States. Since its inception, AblePay has assisted healthcare consumers and medical providers in Pennsylvania and New Jersey. Over the past 18 months, they have expanded to Ohio, Kentucky, Indiana, and Georgia.
AblePay Health assists healthcare providers in reducing their collection expenses while increasing receivable times. Healthcare consumers interested in lowering their out-of-pocket medical costs can enroll in this no-cost program. In addition, the program provides flexible payment terms and convenience with a high level of support for members. The business model works to assist both providers and healthcare consumers, strengthening that relationship while benefitting the communities they serve.
About Inc.
The world's most trusted business-media brand, Inc., offers entrepreneurs the knowledge, tools, connections, and community to build great companies. Its award-winning multiplatform content reaches more than 50 million people each month across various channels, including websites, newsletters, social media, podcasts, and print. Its prestigious Inc. 5000 list, produced every year since 1982, analyzes company data to recognize the fastest-growing privately held businesses in the United States. The global recognition of inclusion in the 5000 gives the founders of the best businesses an opportunity to engage with an exclusive community of their peers and the credibility that helps them drive sales and recruit talent. The associated Inc. 5000 Conference & Gala is part of a highly acclaimed portfolio of bespoke events produced by Inc.
Methodology
Companies on the 2022 Inc. 5000 are ranked according to percentage revenue growth from 2018 to 2021. To qualify, companies must have been founded and generating revenue by March 31, 2018. In addition, they must be U.S.-based, privately held, for-profit, and independent—not subsidiaries or divisions of other companies—as of December 31, 2021.
31, 2021.