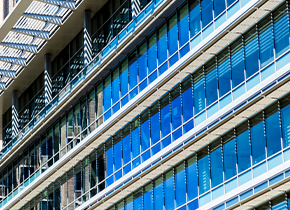 November 26, 2022
Ablepay Health Leases Entire 4th Floor Of Tower 6 Office Building In Downtown Allentown
City Center Investment Corp., the real estate development company revitalizing downtown Allentown, Pennsylvania, announced today that AblePay Health has leased the entire 4th floor of Tower 6, its Class A office building at 600 Hamilton St.
"The move to a newer, larger space in downtown Allentown is the next phase of growth for AblePay," said John Fistner, Founder and CEO. "Staying in the Lehigh Valley was important and finding a space to accommodate our current and future expansion was necessary. City Center met those needs. As a result, we have a stylish work environment with room to grow and a vibrant downtown right outside the front door."
AblePay was founded in 2016 in response to the rising cost of healthcare impacting both patients and medical providers. AblePay enables patients to diffuse the costs of out-of-pocket medical expenses (co-pays, coinsurance, and deductibles) while assisting providers in reducing the costs associated with receiving patient payments. AblePay currently serves over 40,000 members and works with over 75 hospitals, including St. Luke's University Health Network and Lehigh Valley Health Network. In addition to the hospitals, their agreements include hundreds of specialty facilities and thousands of providers within their respective physician groups in Pennsylvania, New Jersey, Ohio, Kentucky, Indiana, and Georgia.
AblePay, which currently has 25 employees with projections to double that number by the year's end, will occupy approximately 12,500 square feet in Tower 6.
"We're over the moon that AblePay is here," said Allentown Mayor Matt Tuerk. "It's a well-run company that is doing something unique in the marketplace. They understand the value for a growing company in a place like downtown Allentown. The cities that have a bright future are a live, work, play environment and smart companies get that. Allentown has that live, work, play combo, and AblePay is a smart company."
Jarrett Laubach, City Center's director of leasing said, "We are pleased to welcome AblePay Health to downtown Allentown. Their space in Tower 6 became available when our previous tenant moved to our Two City Center to expand. We are thrilled that AblePay has growth plans as well and that Tower 6 is the location they plan to grow in."