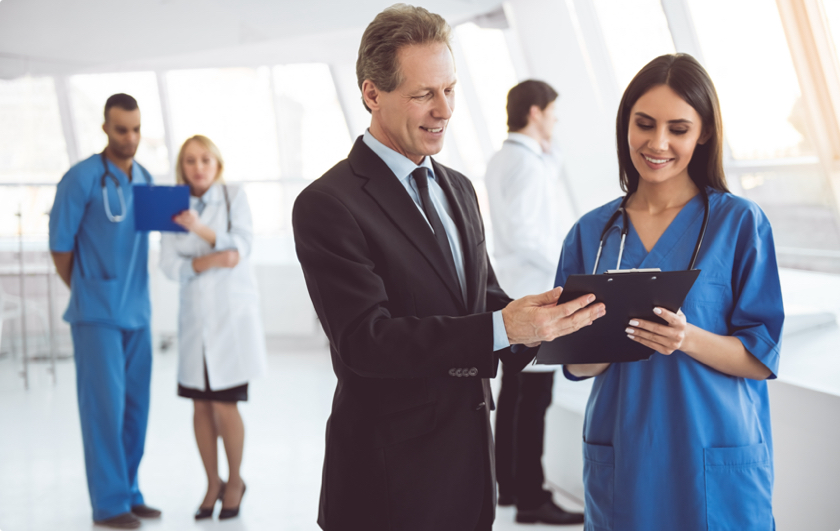 Providers
Our program provides a better patient
experience

and a

healthier bottom line.
AblePay was not founded by a bank or tech company but by health system executives that recognized that there is a better way to increase revenues for providers.
AblePay assumes all risk on patient collections
Providers are paid the contracted rate within 14 business days
Absolutely no recourse
Providers are compensated at rates significantly higher than average collection rates
Reduced collection costs
Easy implementation, no extra integration needed!
Improved patient experience
Electronic billing: Claims are processed via 837 & 835 (secondary payer)
We are evolving the patient payment model
Provider Perspective
A non-risk bearing solution that takes full responsibility for patient payment responsibility:
A guaranteed non-recourse payment to the provider at a discounted rate
Payment received within 14 business days of submitting a claim
Same-day integration
Complementary to existing patient payment platforms
The patient receives advocacy services to enable payment better
Improves patient satisfaction – 69 net promoter score (NPS)
Removes the cost to collect on patients
Patient Perspective
A no-cost program that provides savings, flexible payment options, and advocacy support to assist our members with out-of-pocket medical expenses.
Patient enrolls in AblePay for no cost
Zero Interest, Zero Fees, Zero Penalties
Eligible for 13% savings off medical bill
The patient has power to choose payment methods and terms
Advocacy services to assist patients in understanding the billing process
AblePay accepts all payment methods, including an HSA or FSA
Members can link anyone that they are willing to be financially responsible for to their AblePay Health account